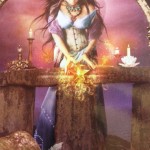 Join me for a three month transformative experience that can give a boost to your ordinary life, clear anxiety and blockages, and reorient your inner compass. Empower yourself and receive initiation that will assist you in finding your true North and having the courage to move towards it.
You will receive a series of 6 initiations over 3 months, meeting approximately every 2 weeks. Initiation includes education, facilitation, and field trips to sacred sites around San Diego county. Each class will meet in a different outdoor location. I have room for 4 people in this course.
Included is an early access copy of "Six Gateways to Shamanism: A New Spirituality for Everyday Life" (not due to be published until the winter).
Class Dates:
Saturday Mornings from 10am – 12 pm.
January 9th and 23rd
February 6th and 20th
March 5th and 19th
Cost is $306 for the series or 3 monthly payments of $108. Choose your payment plan below, then click the "Buy Now" button to reserve your spot.