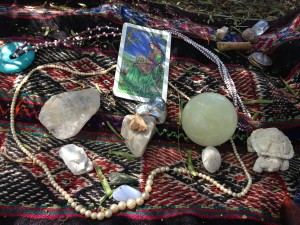 A healing session with me is designed to help you relieve stress and anxiety, and to bring the balance into your life that will both help heal burnout and prevent it happening again in the future. I also provide support with relationships, sex, career, and family life. I look forward to supporting you in finding your truth and authenticity.
(Scroll Down to read how others have experienced this work)
I can work with you either in person or by phone.
A typical session is an hour, and begins with 20-30 minutes of talking about your situation and what is challenging you. During this time I offer support and insight based on my training as a counselor and my intuition.
During the next part of the session I create a spiritual practice for you based on the Six Gateways. Sometimes I will also perform a shamanic healing, depending on your unique needs and situation.
We end by talking about your experience of the practices and giving you the opportunity to ask questions, then I give you homework to help anchor the session in your life.
Some clients work with me for 3-4 sessions, others prefer to have me on retainer as their ongoing support system. Each person is unique. In our 15 minute phone consultation we can discuss your needs and decide on a plan that works best for your situation.
My rate is $150 for a 1 hour phone session. 
Just answer the four questions below and click "send" to schedule your  free 15 minute phone consultation with me to learn more about how I can help.
Testimonials
"It is so easy to lose our connection with the earth and the vast field of energy that surrounds and permeates us. Kypris is wonderful at helping to reestablish  those connections; bringing a sense of calm coupled with a sense of aliveness and even excitement and joy. In fact, the small act of writing these words served as a small practice in staying in a receptive state." (shared by a recent Six Gateways intensive graduate)
"A woman I work with told me she likes my company because it's calming. Wow, what a compliment. If only she knew what a nervous wreck I was before I started working with you…Thank you Kypris. You are an important part in changing my life for such a better turn. "  (shared anonymously by request)
My session with Kypris was the turning point in a several-months-long illness and pattern of exhaustive behavior following a major move. She invoked just the right tools to break my dysfunctional behavior and help me get grounded. She helped me connect with my new space (the land and ancestors) and taught me (again) how to ask for and set up a bubble of protection around me. Her powerful shamanic practices, Reiki, caring touch, and common sense psychology combined to bring me a sense of well-being that alleviated my fears as well as my physical symptoms. I recommend Kypris to get to the heart of the problem quickly and to effectively resolve issues on many levels.

–Kaliani, Reiki Healer and Cancer Survivor
My session with Kypris was so nurturing from the very moment I stepped into her office. From the first heartfelt hug to the specially brewed rose petal tea, I could feel Kypris's presence and intention so clearly as we began our journey together. After a quick verbal debrief of what was happening for me, she was able to immediately tune into my body and my spirit and begin a major healing of my heart and my ability to give and receive love and vitality. Her years of shamanic training and healing experience really held the session in a loving and gentle container that allowed me to fully let go and let Spirit move through me. I have been changed for the better on a fundamental level in just an hour session with Kypris, specifically, I am more aware in how I love and care for myself and how that self-love amps up my ability to give and receive from others with joy!

– Veronicah Cohen, Teen Facilitator